The third step at the operational level of the Frame of Reference deals with interventions. When benchmarking reveals a substantial deviation of the current with the desired situation, something has to be done sooner or later. Accepting erosion may be possible in areas where no essential functions or values are threatened, or where a sufficient buffer zone has been created through a set-back line. But otherwise there is a dire need for restoring the sediment balance. If this does not suffice, hard structures can be the last resort.
A combination of these measures often provides the best results. Generally speaking, the preferred order of measures is as follows: 1) define set-back lines, 2) apply soft nourishment to restore the sediment balance, and 3) implement hard engineered structures if no other options are possible.
1. Sand nourishments
Sand nourishment can be carried out at various locations in the profile and along the shoreline (see figure of cross-shore profiles), as follows:
dune reinforcement: dunes are reinforced/ protected landward or seaward above dune toe level against breaching during storms;
beach nourishment: sand is dumped as high as possible on the beach as an elongated buffer layer of sand on the beach or as a continuous source at one or more specific locations (stock pile); typical volumes are in the range of 30 to 150 m3/m;
shoreface nourishment: nearshore berms or mounds are constructed from dredged material as a feeder berm in shallow water at the seaward flank of the most offshore bar or as a reef berm in deeper water to act as a filter for storm waves; typical volumes are in the range of 300 to 500 m3/m.
If there is a substantial loss of sediment over a period of 5 years or so, nourishment of the area with a sediment volume equal to the observed volume loss may be considered. Shoreface nourishment is the mechanical placement of sand in the nearshore zone to advance the shoreline or to maintain the volume of sand in the littoral system (coastal cell). It is a soft protective and remedial measure that leaves the coast in a more natural state than hard structures and preserves its recreational value. The method is relatively cheap if the borrow area is not too far away (<10 km) and the sediment is placed at the seaward flank of the outer bar where the navigational depth is sufficient for hopper dredgers.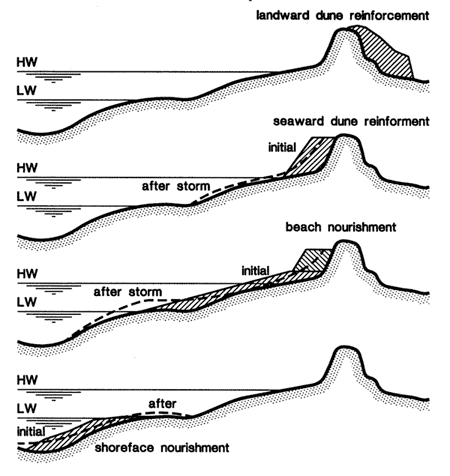 Cross-shore profiles of dune, beach and shoreface nourishments
Beach nourishment is mainly used to compensate local erosion in regions with relatively narrow and low dunes (in regions where coastal safety is critical) or when the local beach is too small for recreational purposes. Beach nourishment is about twice as expensive as shoreface nourishment per unit of volume.
Experiences with nourishments on the Holland coast show that shoreface nourishment has an efficiency (defined as the ratio of local volume increase to initial nourishment volume) of 20% to 30% after about 4 to 5 years. Beach nourishment has an extremely low life cycle of 1 to 2 years along the Holland coast.
Practical experience of the Holland coast also shows that large-scale erosion can be stopped by massive beach and shoreface nourishment over long periods of time. This approach is only feasible if sufficient quantities of sand are available and the dredging and dumping costs are acceptable (about €10 to €15 million per year or €100 to €150 per metre of coastline for the Holland coast with a total length of about 100 km).
2. Hard structures
Generally, coastal structures such as groynes, detached breakwaters and artificial reefs are built to significantly reduce coastal beach erosion and to maintain a minimum beach for recreation. These structures are, however, no remedy for structural sediment deficiencies due to sea level rise, nor for dune erosion during conditions with relatively high surge levels (above the dune toe level). Seawalls and revetments are usually built in regions (along boulevards of beach resorts) where natural dunes are absent or have been removed for recreational purposes.
3. Costs of measures
It is difficult to make generalised cost estimations for measures, since this largely depends on local conditions, such as the design of the measure, the type of material used, local prices for labour and material etc. The costs can range from a few thousand Euros for localised protection measures to several millions of Euros for a complete restructuring of the coast. An example from the Dutch coast provides some indication of the costs for different types of measures.
Hard structures (groynes, detached breakwaters) require relatively high capital investment plus the cost of maintenance works (storm damage, subsidence, scour problems, redesign, etc.) and costs of supplementary beach nourishment to deal with local erosion problems (opposite gaps and along the downdrift side). The construction costs of rubblemound groynes with a length of 200 m (spacing of 600 m) is about €1 million. When interest and maintenance costs are added, this brings the figure to approximately €3 to €5 million over a period of 50 years or about €100 to €150 per m coastline per year. The construction of detached breakwaters is considerably larger, in the range of €200 to €300 per m coastline per year. The use of soft shoreface nourishment requires less initial investments, but the cost of regular maintenance of the feeder berm (every 3 to 5 years) has to be added resulting in annual costs of about €100 to €150 per metre of coastline per year. Beach nourishment is twice as expensive (€200 to €300 per metre of coastline per year).
In conclusion one could say that in general the differences in costs between hard and soft engineering solutions are relatively small. Other considerations, such as secondary effects, amenity value etc. will often play a much larger role in the choice of the type of intervention.
Indication of investment costs of shoreline protection measures
Type of structure

Construction + maintenance costs over 50 years
(in Euro per m coastline per year)

Straight rock groynes

50 to 150

Rock revetments

100 to 200

Shoreface nourishments (every 5 years)

100 to 200 (if sand is easily available)

Sea walls

150 to 300

Beach fills (every 3 years)

200 to 300 (if sand is easily available)

Submerged breakwaters

200 to 400

Emerged breakwaters

250 to 500